If you would like to view this page with larger photos rather than these thumbnails, choose

option above. Warning!! Loading time will be very slow since the pictures are maximized.
All photos and information are the same.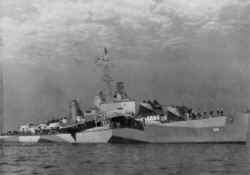 Displacing 2.200 tons, she was 375 feet, 6 inches long with an extreme beam of 40 feet, 10 inches. In trials, she clocked 34.2 knots. She carried a complement of 21 officers and 342 enlisted men. She was armed with She was armed with a main battery which was 3 dual 5inch 38 caliber gun mounts, 2 Quad 40 millimeter gun mounts, two 40 millimeter twin mounts, and six single 20 millimeter antiaircraft guns. Her hull was laid down as a destroyer, but she was refitted as a destroyer-minelayer.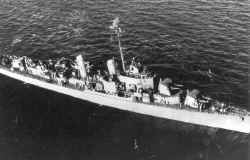 She was a proud ship, a taut ship, a happy ship. May 3, 1945 found her on Radar Picket Patrol duty off the coast of Okinawa, Japan.
And then the kamikazes came....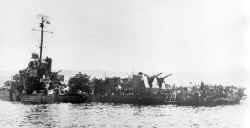 About 26 of them attacked her, and 6 enemy aircraft breeched her defenses to crash into her deck. Two of them carried 500 pound bombs.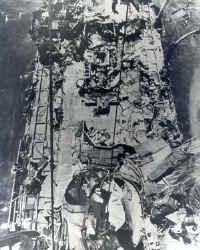 Imagine the twilight lit by flames and explosions...beneath your feet the hot deck is wet with aviation fuel...and blood. Fires storm around you, accented by the thunder of explosions as the hail of shrapnel whistles by your face. Around you, you hear your shipmates cry for help-- some with screams, and some as a soft plea. You take all this in, but still you must keep fighting...another suicide plane is diving at you...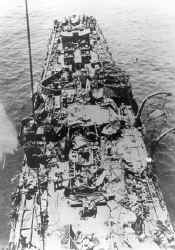 Within a 52 minute time span, she was hit by 6 suicide planes and two 500 pound bombs. Most of her guns were knocked out, she was flooding, her steering was jammed, but she still managed to fight. One gunner was so determined that he literally sawed the wings off a kamikaze-- with bullets.
The battle however, was far from over.
Notice the dangling davits? Most of the life boats and life rafts were smashed. Fires and explosions continued to rage throughout the ship. She had a 40 foot hole ripped in her side, and the East China Sea was pouring in faster than the portable gasoline operated pumps could pump it out.
She settled lower into the East China Sea and the sharks waited...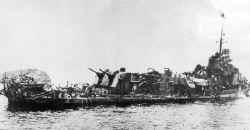 Compare the height of the deck to the level of the ocean. After pumping all night long, the freeboard could be measured only in inches. Her decks were a mass of twisted steel, kamikaze debris, and flames. Her compartments were flooding.
And 42 men were either dead or dying.
Assisted by the U.S.S. SHANNON, the AARON WARD was towed at a hellish 5 knots to the relative safety of Kerama Retto. There was a very real danger that more kamikazes would return, or that a stray Japanese submarine would happen by. And towing is a dangerous undertaking, especially when one ship is almost submerged.
But she survived.
Note the guns, they look ready to fire, even through while she was tied up, she made the ship next to her look monstrous as curious sailors lean over the rails to survey the damage.
A kamikaze engine litters the deck and a propeller is embedded in the after deck house.
The debris of battle is everywhere.
Perhaps it was the mine tracks that held her together...
Below are thumbnails to further enlargements of the damage that appears on photos 3 and 6:
Photos 1-6 Official Navy Photos.
Photos 7-16, taken by J.F. Fields.